In Rakuchu area, the area around Toji in the south and Shimogamo Shrine in the north is called Rakuchu.
This time, Shimogamo Shrine, which has handed down many traditional events since ancient times as the god of the royal shrine,
The Kamo-gawa River, which is loved as a place of recreation and relaxation for the citizens of Kyoto, used to be the residence of the Emperor.
I will take you to Kyoto Imperial Palace, Kyoto Gyoen, Nijo Castle built by Tokugawa Ieyasu, and Nishiki Market which is said to be the kitchen of Kyoto in the end!
First, the route starts from Kyoto Station and goes directly to Shimogamo Shrine first.
For directions, the easiest way to get there without having to transfer is by taking bus number 205 (Buses bound for Shijo Kawaramachi), 17 or 4.
[No transfer method: Bus]
Bus stop in front of Kyoto Station
↓
205 (For Shijo-Kawaramachi and Kitaoji Bus Terminal)
4 (For Shijo-Kawaramachi and Kamigamo-jinja Shrine)
↓
The two buses above get off at Shimogamo-jinja Mae.
17 (For Shijo Kawaramachi and Ginkaku-ji Temple)
↓
Get off at 17 Demachiyanagi Station.
[1transfer: Train]
Kyoto Station
↓
Take the JR Nara Line bound for Nara or Joyo.
↓
Get off at Tofukuji Station on the JR Nara Line.
↓
Change to the Keihan Train bound for Demachiyanagi and get off at the last Demachiyanagi Station.
Then, let's go to Shimogamo Shrine!
It is officially called Kamomioya-jinja Shrine (Kamomi Oyajijya), and commonly called Shimogamo-jinja Shrine (SHIMOGAMOJIN).
It is commonly called Shimogamo Shrine.
It is said that the origin is that it is enshrined in the downstream of Kamogawa River.
Shimogamo-jinja Shrine has 53 shrine buildings that are designated as Important Cultural Properties.
It is a historic shrine registered as one of UNESCO World Heritage sites "Historic Monuments of Ancient Kyoto".
It is said to be the oldest shrine in Kyoto.
Shimogamo Shrine is in the delta where Kamo-gawa River and Takano-gawa River meet.
Walking along the approach to the Shimogamo Shrine.
It was a sunny day in the morning, but the deep greenery created a sacred atmosphere.
The name of the forest is called "Tadasu-no-mori" and it surrounds
the approach to the shrine with a vast forest area of about 124,000 square meters. Since the Heian period,
various rituals have been held here, and it has a mysterious atmosphere.
A short walk away is Kawai Shrine, which is recommended for women.
It's a beauty prayer shrine that will make your wishes to be beautiful come true!
The origin of the shrine is that it enshrines Tamayorihime no Mikoto,
the mother of Emperor Jimmu, and since she was as beautiful as a jewel, people believe in her as a god of beauty.
This Kawai Shrine has a lot of connection with Chomei Kamo Chomei, the author of Hojoki, one of Japan's three greatest essays,
who wrote: "The flow of the river never stops, and yet the water is never the same".
When the position of senior priest at Kawai Shrine became vacant, Chomei wanted to be appointed as a senior priest at the shrine,
but his wish was not granted, and after living a life of retirement, he wrote the Kojoki.
As it seems to be a shrine dedicated to the god of beauty, you can feel the dignified beauty in its appearance.
This is a mirror ema! They apply their own makeup and write their wishes on the back of the ema,
and it's a wonderful ema that says, "By writing your wishes on the ema,
you will be beautiful not only on the outside, but also on the inside"!
If you come to Shimogamo Shrine, why don't you take your makeup tools with you when you play Kagami Ema?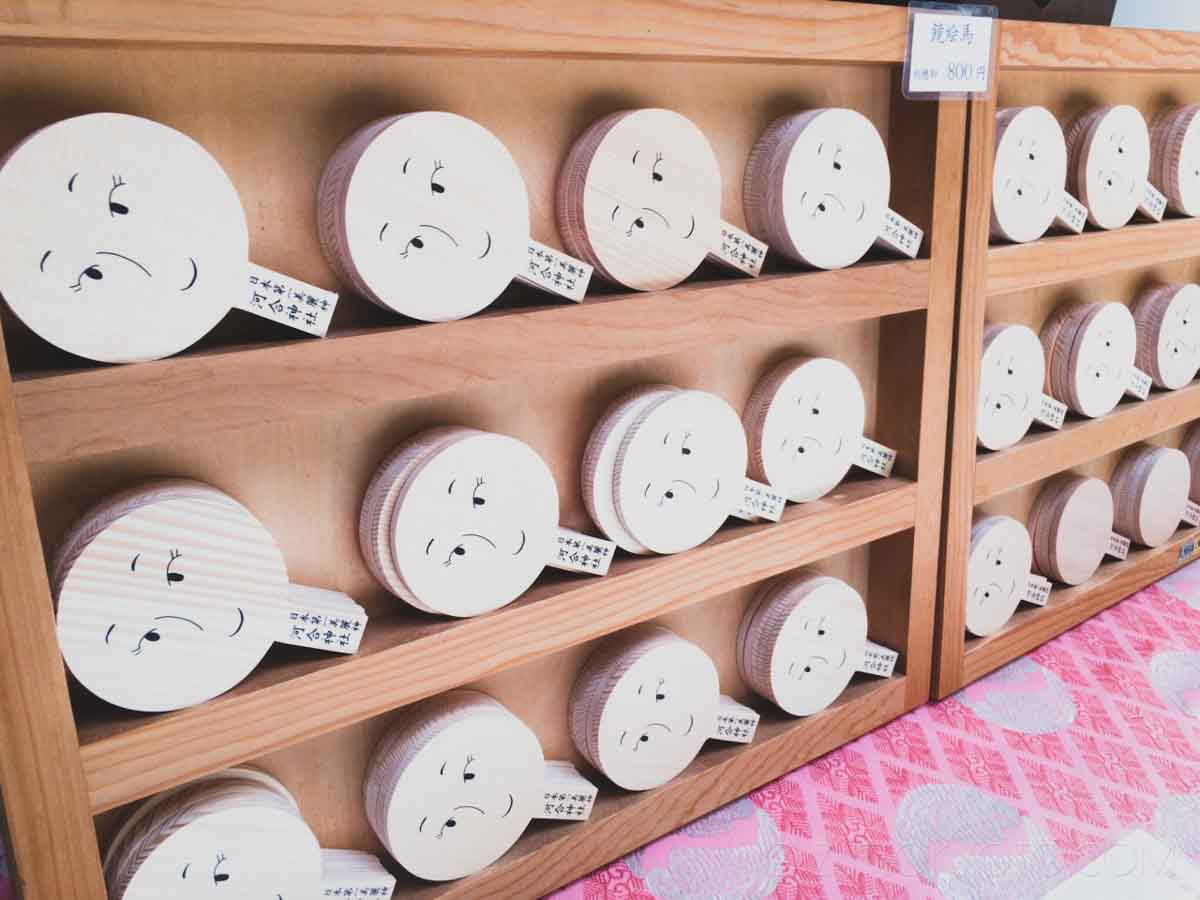 There were many people's mirror ema.
At Kawai Shrine, they also have a special water called Karin Bijinsui, which is also very popular among women.
I wanted to take a picture of it, but it was so hot and thirsty that day that I drank it all in a flash and forgot to take a picture.
I've arrived at Shimogamo Shrine!
It's the oldest shrine in Kyoto, and there was a very sacred air in the air. First of all, we purify here.
It is said that the origin of Mitarashi-dango comes from a shop called Kamo Mitarashi Chaya to,
near Shimogamo Shrine, where water bubbles used to come up from the bottom of Mitarashi Pond in the precincts of Shimogamo Shrine.
This is the tower gate of Shimogamo-jinja Shrine. It has a very dignified appearance.
Passing through the gate, the picture below was taken from the left side.
Another place through the middle gate is called Kotosha, where a shrine of the Chinese zodiac is enshrined.
It's a guardian deity of the Oriental zodiac, so it's good to visit your own god of the Oriental zodiac.
It is the oldest Shimogamo Shrine in Kyoto, and I felt I was able to purify my body and soul. In addition,
Shimogamo Shrine holds various Shinto rituals and festivals throughout the year, and the Aoi Festival,
which is famous for the three major festivals in Kyoto, is also held at Shimogamo Shrine and Kamigamo Shrine.
Well, I walked a little at Shimogamo Shrine, so I will go to Kamogawa and take a break.
On the way back, there is a road called Baba next to the approach,
and this is the place where Yabusame Shinji is held as a ceremony before Aoi Festival.
Before we go back to the Kamogawa River, let's go and buy something sweet. 
There is a famous Japanese confectionery shop called Demachi Futaba near here in Demachiyanagi.
Mame-mochi is famous, and there is always a long line. After all ・・・ it was a long line.
If the timing is good, sometimes there are not so many lines.
As might be expected, I didn't line up on this day, but I have a picture I bought on a vacant day, so I'll put it on.
On the left is the famous representative mame mochi of Demachi Futaba.
The inside of the rice cake was koshian (thick bean paste), and it had a salty taste compared to other rice cakes.
It was not too sweet and light, so I could eat two pieces at once in a blink of an eye.
The rice cake was chewy, the beans were plump and big, and had the right amount of saltiness and texture. It was delicious!
I bought sakura rice cake, but the texture of the glutinous rice and the saltiness of the sakura rice were good too!
I didn't eat Mochi of Demachi Futaba on this day, but actually there is another Wagashi shop right next to Demachi Futaba!
The name of the shop is Otafukuya-san Demachi Masugata Shopping Street,
a little inside, and it's on the right. This time, I bought Otakufukuya's mame-mochi and dango,
and brought them to Kamogawa to eat.
Mamemochi was not so salty, not too sweet, chewy and very delicious!
The dango also has a lot of koshian and is delicious!
I sometimes buy them, but they are traditional and delicious Japanese sweets.
I recommend it because you can buy it right away without waiting in line.
I leisurely found my favorite place in Kamo River and ate some rice cakes.
Kamo River is very beautiful during the cherry blossom season in spring.
Now, let's go to Kyoto Imperial Palace and Kyoto Gyoen!
The inside is gravel, so I recommend shoes that are easy to walk in.
It takes about 10 minutes to get to Kyoto Imperial Palace from around Demachiyanagi on foot.
Kyoto Gyoen National Garden is located 1300 meters from north to south and 700 meters from east to west,
where the Emperor used to live.
There are Kinri Gosho, Sento Gosho and Omiya Gosho which used to be the Imperial Palace until the transfer of the capital to Tokyo in the Meiji period.
After the transfer of the capital to Tokyo, the place other than the Imperial Palace was maintained as a park and is loved by the people of Kyoto.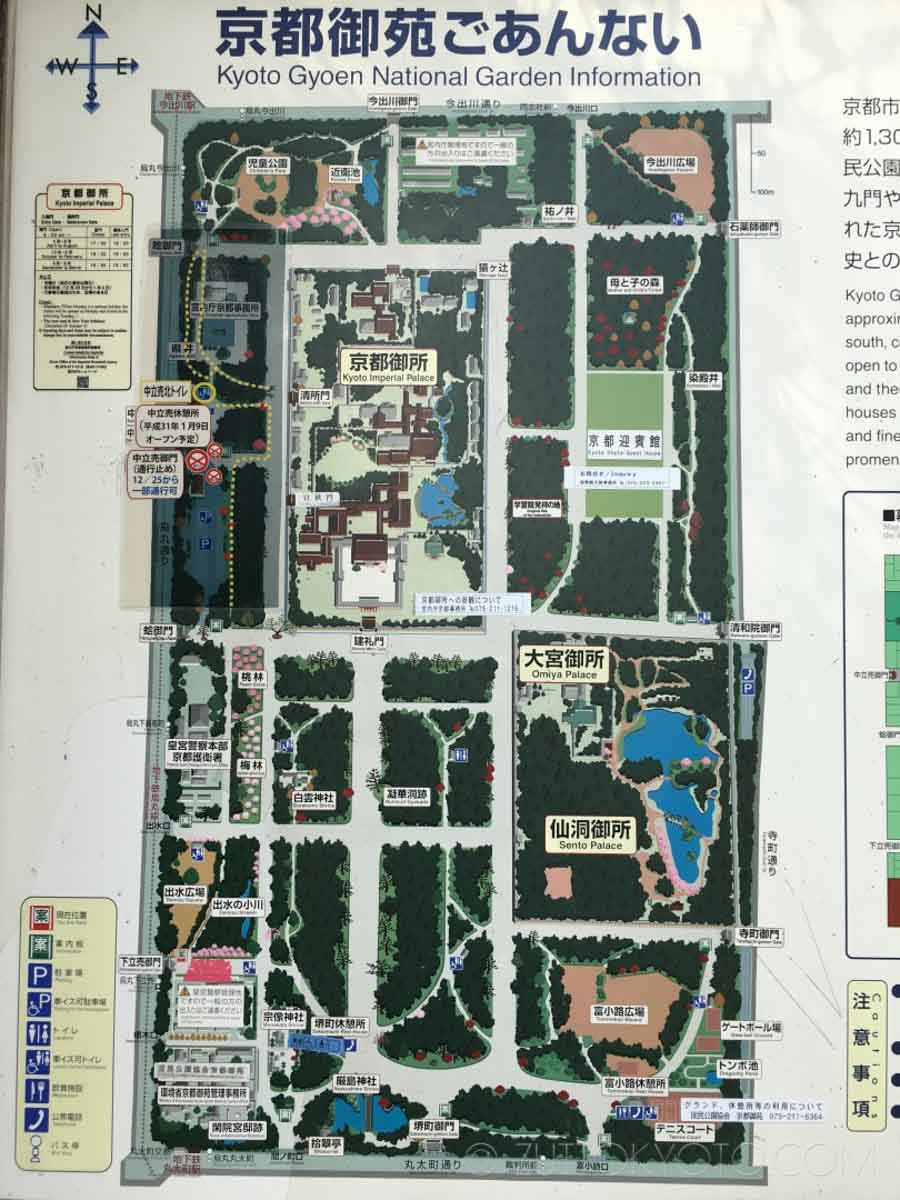 Kyoto Gyoen is also famous for its cherry blossoms,
so you can see wonderful cherry blossoms in spring.
Here is a picture of cherry blossoms in spring.
By the way, the difference between Kyoto Gyoen and Kyoto Gosho is that Kyoto Gosho is the place
where the Emperor moved and performed ceremonies and public duties, and Kyoto Gyoen is the area around Kyoto Gosho.
In sightseeing guide books and conversations with local people in Kyoto,
Kyoto Gosho and Kyoto Gyoen are often called Kyoto Gosho without distinguishing them. In this website,
it is sometimes written as Kyoto Gosho, but in this article, it is written separately from the park part and the Gosho part.
There is Kyoto Gosho in the center of Kyoto Gyoen. Until now, you had to apply for a visit to the Imperial Household Agency,
but from the summer of 2016, it will be open to the public all year round and you can enter without an application.
There was a vast site of nature in the city, and many people visited and enjoyed the way they had their own way.
Please find your favorite place and enjoy Kyoto Gyoen.
Then, let's visit Kyoto Imperial Palace. You need to check your baggage at the entrance,
so you cannot bring in large baggage such as suitcases.
Kyoto Imperial Palace is a square with an area of approximately 110,000 square meters,
approximately 450 meters north to south and 250 meters east to west, and is administered by the Imperial Household Agency.
The "Oike-niwa" garden in the Imperial Palace is like a work of art because the bridge and trees reflect on the water.
Then, I will leave the Imperial Palace and head to the next destination. The next destination is Nijo Castle.
From the Sakai Gate of the Kyoto Imperial Palace, Nijo Castle can be reached in about 20 to 25 minutes on foot.
In the Gosho South area, south of the Kyoto Imperial Palace, there are many nice shops such as long-established shops and restaurants,
so I recommend you to walk slowly along the street to go to Nijo Castle.
If you go to Nijo Castle after having a meal, please adjust the time because the reception of Nijo Castle will finish at 16 o'clock.
Nijo Castle is a Japanese castle built in the Edo period. The official name is the former Imperial Villa Nijo Castle.
It is the only Hirajiro in Kyoto which is a World Heritage site other than shrines and temples and
was built by Tokugawa Ieyasu as an inn in Kyoto. Also, this Nijo Castle is lit up at night during the cherry blossom season!
Cherry blossom viewing at night has a slightly different atmosphere compared to cherry blossoms in the daytime and is highly recommended.
In Kyoto, during the cherry blossom viewing period, there are many other events such as illumination held at To-ji Temple,
Kiyomizu-dera Temple and so on, so why don't you come and see it once if you have the right timing.
Now, I will go to Nishiki market. Nishiki Market, also known as the kitchen of Kyoto,
is a 400 meter-long arcade with 130 shops. It is a popular area that is crowded with Kyoto citizens and tourists every day
because there are old shops that deal with ingredients unique to Kyoto and restaurants where you can eat around. It's fun to look for souvenirs!
One of my favorite stores to go to is Ochanoko Saisai, a specialty shop that sells shichimi peppers.
Aside from the Nishiki market, there are three other stores: the Sanningzaka store near Kiyomizu Temple,
the Arashiyama store, and the Kyoto Tower Sand store (in Kyoto Tower).
The one on the left is Maiko Hanhihi of Shichimi togarashi and the one on the right is Kyo no kuro shichimi.
By the way, the Maiko Hanhihi in this can was 650 yen for 10 g (excluding tax), and the Kuro Shichimi was 600 yen for 10 g (excluding tax).
If you have a container, we also sell refills.
This Maiko Hanhihi is more spicy than ordinary Shichimi togarashi.
It has Japanese pepper in it and has a slightly different taste from ordinary shichimi. As the name suggests, if you add a lot, the inside of your mouth will become hot.
I like it very much because if I put it in a pot and eat it, it makes the dish stand out.
Has everyone tried black shichimi? It has Japanese pepper in it, and the unique flavor will whet your appetite.
It is a seasoning that goes well with various Japanese foods such as Osenbei, Udon and Natto.
Please try it when you come to Kyoto. It's not too spicy, so I recommend it as a souvenir.
Well, I came to Nishiki market, and this area is very lively.
Nishiki Market and Teramachi Shopping Street are connected, and department stores such as Takashimaya are located on Shijo-dori Street.
If you go east, you will see many Kyoto-like shops on the road to Yasaka Shrine, and also Hanamikoji in Gion where Maiko walk.
It's fun to walk and see the typical Kyoto scenery.
How about Shimogamo Shrine, Kyoto Imperial Palace and Kyoto Imperial Palace, Nijo Castle, and Nishiki market Rakuchu course?
I still haven't played enough! So, please go to your favorite place and enjoy your time in Kyoto!
Then, it is the summary of this Rakuchu course.
Q: What is the recommended way to get to Shimogamo Shrine from Kyoto Station?
A: If you don't need to transfer, I recommend taking a bus. It takes about 30 to 40 minutes.
Q: What are the best out-of-the-way spots?
A: I recommend Kawai Shrine which enshrines the beautiful god to women!
Q: Where should I look for souvenirs?
A: I recommend Nishiki Market, also known as the kitchen of Kyoto. Ingredients of Kyoto cuisine are gathered!